ALL IMAGES VIA CARTOON NETWORK
Wubba lubba dub dub! Time to party! So many choices, and as you should know, choices are important. The choices you make planning a party will tell us everything we need to know to determine which character you are from Justin Roiland and Dan Harmon's animated juggernaut Rick & Morty. This show seems to have taken the world by storm, and not just for a few weeks like fidget spinners, Rick & Morty is a certified hit, possibly a TV classic just 3 seasons in.
So what are you waiting for? You have a party to plan!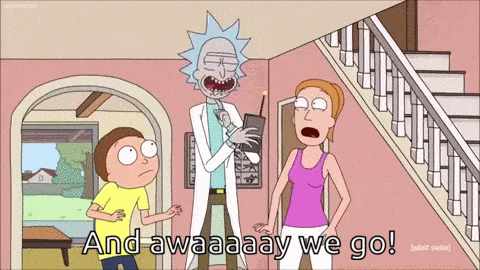 What kind of party will you be throwing?

Who Cares as Long as There Are Jell-O Shots, Who's With Me?!

All-Night Video Game Party

What food will you have for your guests?

Pop Rocks

Pork Chops

Froyo

Pizza

Chicken Tenders

Apples

Drinks?

La Croix Sparking Water

Wine

Soda

Tropical Drinks

I'm Covered

Beers On Ice

Party Decorations/Atmosphere?

Candle Lit

Laser Lights

Balloons

Streamers

Black Lights

Pin The Tail On the Donkey